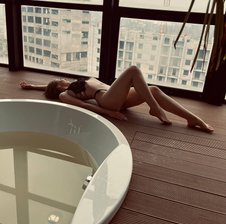 AngelWhite17
Volg
Laat me weten waneer deze persoon online is
21, Steenbok, Украина
Laatste Login:
07-06-23 18:05:33
Belangrijke details van
AngelWhite17
| | |
| --- | --- |
| Geslacht | Vrouwen |
| Seksuele voorkeur | Hetero |
| Leeftijd | 21 |
| Lengte | 175cm – 185cm |
| Gewicht | 60 - 70 kg |
| Haar | Blond |
| Ogen | Blauw |
| Etniciteit | Blank/Kaukasisch |
| Talen | Russisch, Engels |
| Schaamhaar | Geschoren |
| Borsten | Gemiddeld |
| Kont | Gemiddeld |
Men that care for my excitement and my orgasm more than their :P
Hi, my name is Angelina, it's nice to meet. I am very sweet and funny. Always do not hesitate to say hello and start pleasant and wonderful conversations with me. In my free time, I like to walk, go to restaurants and actively spend time, listen to music, watch movies, play sports. I have a very beautiful body without tattoos and piercing. Natural boobs. If you want to know more about me, talk to me in the chat and do not be shy.
I love offline tips, they make me happy.
I love PVT/C2C.
My favorite number 7, 77, 777, 7777, 77777 tokens.
I love fruits and they are part of my daily life.
I love very animals and I have a thick and fluffy cat.
I love flowers, they fill the pleasant and fresh atmosphere in the house.
I love perfume and I am insanely pleased when it smells delicious in my house.
I love smart men with whom can speak on various topics with ease.
I love men of all age.
Each sign of attention and token is accepted with gratitude and kiss.
I am a very romantic person, I love to love and be loved.
Thanks for your love and support your.
Wat vind ik een afknapper
Coarseness. Greed, stupidity
Wat ik doe voor de webcam
Werkuren voor AngelWhite17
Привет, меня зовут Ангелина) Я здесь, чтобы испытать всю чувственность и удовлетворить мою сексуальность в вашей компании. Я непослушная и всегда готова повеселиться. Не стесняйся говорить привет и начать хорошие и милые беседы со мной. Я не кусаюсь, клянусь (по крайней мере, не слишком сильно) В мое свободное время я люблю активно проводить время, слушать музыку, смотреть фильмы, заниматься спортом.Если вы хотите узнать обо мне больше, поговорите со мной в чате и не стесняйтесь.